People know Nick Cannon as a lot of things.
He's the husband of Mariah Carey, who's due to give birth to the couple's first child in March. He's shooting the next season of "America's Got Talent," which he hosts. He's a comedian, musician and actor.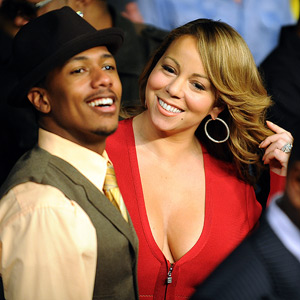 Gabriel Bouys/AFP/Getty ImagesNick Cannon and Mariah Carey attended the Floyd Mayweather-Shane Mosley fight in May in Las Vegas.
But we haven't seen Nick Cannon the boxer, an avid fan who says he boxes three or four times a week.
"There's something about boxing and the history," Cannon said, admitting he's fought off the mixed martial arts bug. "To me, and nothing against mixed martial arts and the UFC and all that, there's so much more sport and technique when it comes to boxing. It's more like a physical game of chess than just an all-out brawl."
He's a fan of Shane Mosley and Floyd Mayweather, and is a serial doubter of Manny Pacquiao.
"He's proven me wrong every time, so I definitely have to respect the guy," Cannon said. "I'm just waiting for someone to put him down. I think Mayweather would do it."
But will that fight ever happen?
"I hope so," Cannon said. "It'd be great for the sport."
Can Cannon use some of his showbiz clout to make it happen?
"I wish I could. I would use it all to make that happen," he said.
One other thing on Cannon's plate: Attempting to set world records for ginormous avian-themed timekeeping devices. He's hosting an event for the U.S. launch of Kellogg's Crunchy Nut cereal in Los Angeles on Saturday that will attempt to set a Guinness World Record for the world's largest cuckoo clock as part of the company's campaign, "It's Morning Somewhere." The event, at Hollywood Boulevard and Highland Avenue, starts at noon PT will run for 24 hours with a performance or skit every hour by performers who emerge from the six-story-tall clock.