ASPEN, Colo. -- A big week for Big Boi.
On Saturday, he performed in front of 4,000 people in downtown Aspen to celebrate Winter X 15.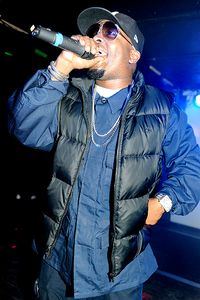 Brad Barket/PictureGroup/AP PhotoBig Boi said he needed some oxygen after performing in the high altitude of Aspen.
On Tuesday, he will celebrate his 36th birthday.
And on Thursday, he, along with close friend Cee Lo Green, will perform at this year's Madden Bowl XVII in Dallas. It'll be broadcast live on ESPN3.
"I'm just living the dream," Big Boi said after his 65-minute show at the base of Aspen Mountain as thousands sat on snow to watch him perform songs from his latest solo CD and his work with Outkast. "It's all about having a positive message and delivering that to the fans."
Big Boi, born Antwan André Patton, grew up in Atlanta and met Andre "3000" Benjamin while attending a visual and performing arts magnet school and formed Outkast. They've had many hits as a duo, including "The Way You Move" and "Hey Ya!" and Big Boi was just nominated for three Grammys for his recent work, "Sir Lucious Left Foot."
That's why Big Boi has been out on the road the past few weeks. He performs in Las Vegas on Monday but said he had to make a stop in Colorado to perform at the X Games.
"I always liked to watch it on TV," he said. "I have some young kids who are into it. I think I could try snowboarding. I have done some skateboarding in the past. But skiing? Not a chance. I can only think of Sonny Bono, who accidentally died while skiing."