ASPEN, Colo. -- One Saturday in the fall, while watching TV, Patrick DelliBovi noticed that snowboarding queen Gretchen Bleiler was using his company's camera in an 35-minute travel film called "Uniquely."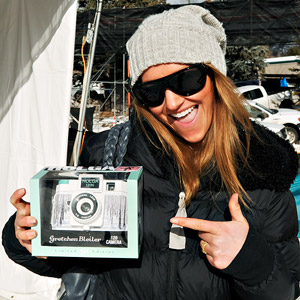 Bruce Carver/ESPN Action SportsGretchen Bleiler on the cameras: "I fell in love with the surreal, quirky quality of the photos."
On that Monday, DelliBovi, senior vice president for sales and marketing for Holga cameras, reached out to Bleiler to ask for her help in creating two new cameras.
"I never watch television but I happened to flip through the channels and saw her and some other snowboarders using the camera in that film," DelliBovi said. "I thought it would be a natural for her to create one of her own. She represents what we're looking for in athletes. And she agreed."
For Bleiler, she didn't want to just put her name to something.
"I only have sponsors I believe in, and I didn't want to just give lip service to this idea," said Bleiler, one of the most decorated action sports athletes. "I really loved using the camera in the film and I wanted to be a part of this."
So Bleiler helped come up with the camera design. She came up with the color scheme, the font style, the lettering and even put her own handwritten inscription on the bottom:
"Every single one of us has the unique opportunity to create awareness and influence change."
And that's what's Bleiler is all about.
In fact, Holga is donating a percentage of all sales to Protect Our Winters, a nonprofit environmental organization.