The Super Bowl is an eating holiday. It's just in time, if you ask me.
The first holiday for me is Halloween. All that crazy candy.
The next is Thanksgiving. Then Christmas. Then the New Year's Day meal.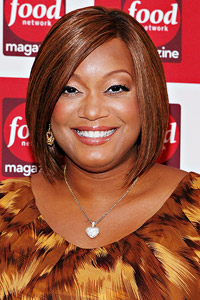 John Lamparski/Getty ImagesFood Network's Sunny Anderson this week provided readers with useful recipes.
After that, everyone is a recluse. Everyone wants to lose weight, going on a Gwyneth Paltrow diet or something. How much veggies and fruit can you eat?
Then comes the Super Bowl!
It's time to pack it on again!
You never watch the Super Bowl alone. You have the whole crew over.
Here's the best way to plan your day:
You have to watch the preshow. That gives you the storylines of Super Bowl. You need to have some light refreshments and small bites.
When it's kickoff, it's time to start noshing. That's where you pull out things in bags. Chips and Chex mix. Maybe some jalapeno poppers.
As the second quarter comes to a close, that's when you bring out the big guns.
It's halftime so that means bathroom breaks, smoke breaks and such.
That's when the real meal comes out. Chili, wings, etc. Things that are hot and greasy.
In the third quarter and the start of the fourth, that's when you start cutting people off their favorite beverage. You can't send them home drunk.
Start to bring out the coffee and start serving dessert.
At the end of the game, get them out of there. It's time for your friends to go home.
Sunny Anderson, who is New York Jets fan but is claiming the Steelers because of family there, is host of Food Network's "Cooking for Real" and will be providing recipes this week to prepare you for the big game on Sunday.