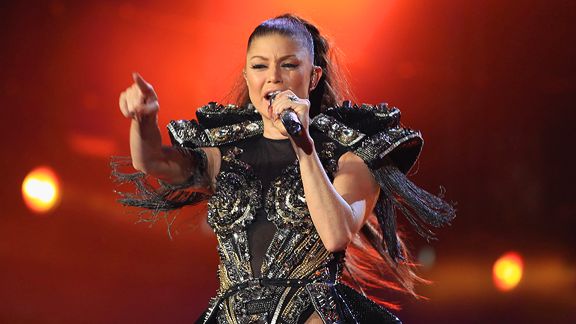 Martin Rose/Getty ImagesFergie and the Black Eyed Peas will play the halftime show. Will she don a Cowboys cheerleader outfit?
The Super Bowl is the grandest event in American sports, making it the perfect place to find people wagering on the most insignificant of minutiae. That's right, it's Super Bowl prop bets!
Will Fergie don a Dallas Cowboys cheerleader outfit during the halftime performance? Will a Steelers player steal Aaron Rodgers' championship belt celebration? And how many times will Brett Favre be referenced during the broadcast? Just about every angle of Super Bowl XLV has been studied and put under a microscope for you to make a choice that could have you celebrating an otherwise insignificant play or crying over a coin flip.
While we can't endorse putting your hard-earned money at risk, we do encourage you to put your opinions on the line in SportsNation's poll and give yourself a few more things to watch for Sunday night.
• Click here to vote on actual offbeat Super Bowl XLV proposition bets