What decade is this? Two NFL blue bloods, the Packers and Steelers, are in the Super Bowl, a Lakers-Celtics matchup is as meaningful now as it was in the '60s and a guy named Watson (although Bubba, not Tom) won Sunday on the PGA Tour. This, just a week after the Bears-Packers NFC rivalry rematch took us back to an earlier time, Willie Mays returned to New York and Al Davis emerged from his dungeon. If 2011 is the year of the retro renaissance, here are 11 more ways to take us back to the future in '11:
Mandate short shorts: What's more retro than NBA players baring a lot more leg in those shorter shorts from the Jerry West era? Out with the baggy, in with the tighties.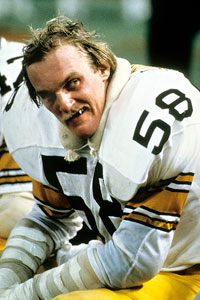 Getty ImagesJack Lambert is Page 2's prototype for a throwback football player.
Restore the Southwest Conference: The SWC reigned for more than 80 years with real rivalries where football was king in Texas and Arkansas (which seems like a Hog outta water in the SEC). Bring back the wishbone, too.
Third-place games: Why not? The NFC/AFC losers, the Bears and Jets, can play for pro football's consolation prize, just as they did in the NFL's old Playoff Bowl. The NCAA tournament can bring back its third-place game, too. What's wrong with a bronze medal?
Play that organ: At baseball games this season, turn off the screaming pop and turn on to polka!
World Series games in daylight: Stop the midnight madness.
Bring back the Coastal Division: And the Century, Capital and Central divisions of the NFL that often made little sense. Let's hear it for Atlanta, Baltimore, Los Angeles and San Francisco all in the same division again.
Black and white TV broadcasts: Suddenly, every telecast will look like ESPN Classic.
NCAA tournament: Back to a 25-team bracket, just like 1960. If you don't win your conference, you don't make The Dance. That's what the NIT is for.
No roster spots for kickers: NFL place-kickers and punters will have to be "real" players, like George Blanda, Lou Groza and Paul Hornung.
Move the goal post: Return the NFL goal post back to the goal line as it was pre-1974. Let's clog up the middle of the field and let receivers such as Hines Ward use the post to scrape off DBs.
Tiger Woods wins again: And, going way, way out on a retro limb, maybe golf's former No. 1 player will win again.