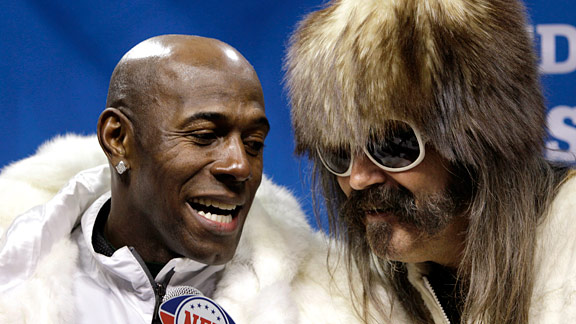 AP Photo/Eric GayAh, the spectacle of Super Bowl media day: What are Donald Driver and Vic Jacobs talking about?
At Page 2, we know you're funny, so share your gift. We'll find a great photo, and you provide the caption.
Green Bay Packers' Donald Driver answers a question from Los Angeles radio personality Vic "The Brick" Jacobs (who put the fur coat on Driver) during Super Bowl media day on Tuesday.
Give us your caption in the comments.
Yesterday: Our favorite from the Brett Keisel photo from user maxrep2003: "Hello, ladies, look at your man's beard, now back at Keisel's, now back at your man, now back to Keisel. Sadly, he isn't Keisel, but if he stopped trimming his beard and grew it out like Keisel, he could look like he's Keisel. Look down, back up, where are you? You're at the Superbowl with Keisel and his beard whom your man could look like. What's in your hand, back at Kiesel. Kiesel has it, it's an oyster with two tickets to that thing you love. Look again, the tickets are now diamonds. Anything is possible when your man looks like Keisel and not a lady."