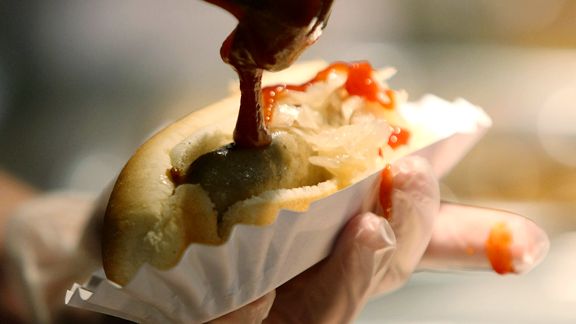 Jonathan Daniel/Getty ImagesThe peanut butter and jelly AND bratwurst bid didn't make the cut.
MILWAUKEE -- When the Brewers asked for fan input on what the next menu item will be at Miller Park, team officials knew they were going to get some unusual suggestions.
But a peanut butter and jelly bratwurst? Really?
"I admire the creativity and the unique component to that, but yeah, that was one of the wackier ones," said Brewers vice president Rick Schlesinger.
He wasn't kidding.
Of the more than 1,300 entries in the Brewers' "Create a Concession" contest, it was the marriage of two Midwestern favorites that rarely meet up anywhere -- let alone tucked into a sub roll.
It also sent Page 2 scrambling to the official test kitchen to find out what a bratwurst set inside of a peanut butter and jelly sandwich tastes like. After all, PB-and-J is a well-documented culinary match made in heaven, a fundamental feast delighting Americans of all ages. And bratwurst is as much a part of the social fabric of Wisconsin as bowling and beer.
Do these two opposites really attract? Have we been missing out on a hidden taste sensation?
Nope. Not for a second. The salty and sweet of the peanut butter and jelly were quickly overpowered by the meatiness of the bratwurst. The end result was a flavor combination that tasted just as ugly as the purple, gray and brown sandwich looked.
Simply put, if peanut butter and jelly is a food marriage made in heaven, then adding bratwurst into the mix had our taste buds scrambling to file for divorce.
Which is why it didn't make the cut to the final four.
The four that passed that litmus test were chicken parmesan sandwiches, "racing" sausage kebabs, tilapia tacos, and a Wisconsin take on the Canadian classic, poutine. The Brewers cooked up these four and made them available at "Brewers on Deck" on Jan.29.
Now, the team is asking fans to let their tummies do the talking and vote (on the team website) for their favorite new flavor. Results will be announced Feb. 9.