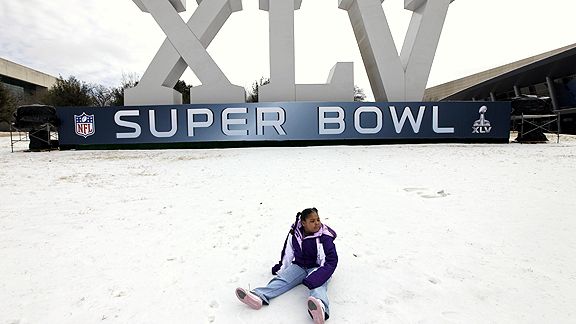 AP Photo/David J. PhillipKenya Banks, 5, of San Antonio, sits on the ice outside the NFL Experience exhibit in Dallas.
FORT WORTH, Texas -- My wife and I were married 15 years ago Wednesday on the coldest recorded day in the history of Minnesota. The official thermometer read 60 below in Tower, Minn., and that was without the wind chill. It was a relatively balmy 30 below in Eagan, where we got married, but even so, my friends had to get up in two-hour shifts to start the car to keep it from freezing up. Most of the guests who did not take this precaution couldn't start their cars the next morning. My brother-in-law's rental car did not start, and when he called AAA for a jump, he was told they wouldn't be able to get to him for two weeks.
I bring this up because I was not nearly as cold that day as I was here today while walking three blocks from the hotel to our office this morning.
Temperatures are in the teens, but the howling winds make it as cold as the heart of an IRS auditor. It's colder than most Winter Olympics I've covered. It's so bad out there I keep expecting to see Yukon Cornelius come mushing down the street. It's so cold even the folks from Green Bay have had to put on light windbreakers.
I'm not complaining, though. Much of the country is enduring brutal winter weather as well. Plus, anything that puts a damper on the Super Bowl decadence for all those corporate fat cats is good with me. As I wrote recently, I love football in cold weather -- it's just a shame that the temperature is supposed to warm to 60 by Sunday and there is a retractable roof on the stadium in case things stay bad.
The people I do feel sorry for are all the ESPN producers, cameramen, technicians and broadcasters who have to work on the sets in these brutal conditions. It's as if they have been transferred to ESPN Fairbanks. But at least they're getting paid. The streets of Fort Worth are filled with bundled-up hospitality volunteers trapped outside in the cold. They're positioned there to answer questions and help direct visitors who, of course, are all staying warm inside their hotels and restaurants and carefully avoiding any exposure on the streets.
So the volunteers are all alone with no one to direct or help, just standing there with these wide, welcoming smiles frozen on their faces. Perhaps literally so.
(BTW: Happy anniversary, Sweetie. I'll be thinking of you at the Maxim party.)