Thursday is Day 1 of the Year of the Rabbit on the Chinese calendar, which means this Sunday may just be super for Steelers running back Rashard Mendenhall, born in 1987, a previous Rabbit year. If Mendenhall has another big game -- he had 121 yards rushing in the AFC title game -- it may be a sign of good things to come for others, such as: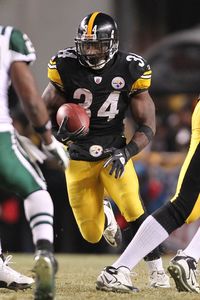 Matthew Emmons/US PresswireRashard Mendenhall was born in 1987, a previous Year of the Rabbit.
South Dakota State: Go Jackrabbits! They're having their best season as a Division I men's hoops program, having cracked the mid-major top 25 ratings for the first time this season.
Eminem: Figure "B-Rabbit" from "8 Mile" for another big year -- with no relapse -- after winning a Grammy for Best Album in 2010.
Kobe Bryant: He's feeling the love from China. His jersey is No. 1 in sales there, and his reality TV show, "Kobe's Disciples," has been a hit.
Tim Tebow: Broncos QB (a Year of the Rabbit baby) may get just what he needs from a coach named Fox.
"Hare" Jordans: If you want that old school look, these are perfect. These shoes are pricey, though: a pair of 1991 Nike Air Jordans -- like the ones Michael Jordan wore in his TV commercial with Bugs Bunny -- may set you back about $200.
Nicole Kidman: "Rabbit Hole" star is in line for Best Actress Oscar.
Carrot Top: If he's ever going to feel the love, this may be the year.