Welcome back to another edition of Page 2 Jeopardy!, the quiz that tests your knowledge of sports, pop culture and assorted trivia. Please remember to phrase your responses in the form of a question.
(Correct questions at the end of the quiz.)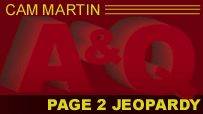 1. Answer: Former Cowboy Chuck Howley is the only NFL player to ever do this.
2. Answer: When she was younger, Megan Fox claims she resembled this "Boardwalk Empire" actor.
3. Answer: Phil Kessel received this for being picked last in the NHL All-Star Game fantasy draft.
4. Answer: Of one, two or three, the number of times Vikings rookie Everson Griffen was arrested in a three-day span in Los Angeles.
5. Answer: Of $100, $500 or $1000, how much Griffen is charging people to ride on a party bus to Las Vegas with him this weekend.
Question 1: What is win the Super Bowl MVP while playing for the losing team?
Question 2: Who is Steve Buscemi?
Question 3: What is a car?
Question 4: What is two?
Question 5: What is $100?