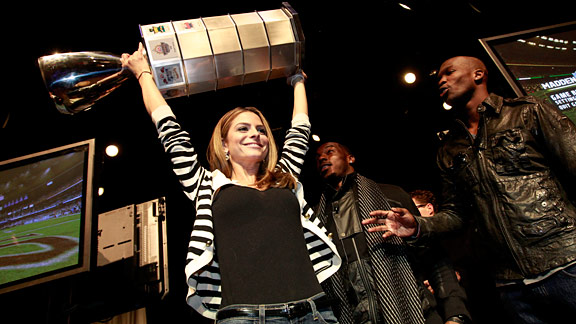 Tom Pennington/Getty ImagesMaria Menounos, Chad Ochocinco and Patrick Willis are your Madden Bowl champs.
At Page 2, we know you're funny, so share your gift. We'll find a great photo, and you provide the caption.
TV personality Maria Menounos celebrates with the Madden Bowl XVII Trophy with Patrick Willis of the San Francisco 49ers and Chad Ochocinco of the Cincinnati Bengals on Thursday after the trio won the Madden Bowl XVII in Grapevine, Texas.
Give us your caption in the comments.
Yesterday: Our favorite from the Justin Bieber photo from user smilez1105: "She's doing that move all wrong. She needs to twist at the hips, or she could pull a hammie." (Hey, we're a family operation here.)