If Trey Songz were a betting man -- "I can't believe I didn't!" he yells out in a mock joke -- he might be a bit richer this weekend.
The R&B singer, who performed at the NFL Players Party presented by Reebok on Friday night in Dallas, says he called the Green Bay v. Steelers Super Bowl game a month ago, and took somef flack from it from his football-watching buddies because of it. And it hurt to make that predicition back then, he says, considering that he's a diehard Washington Redskins fan. "It's been a rough season for my squad," he sighs.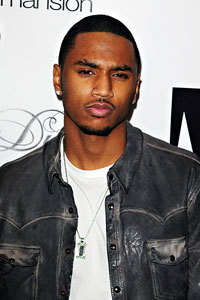 Vallery Jean/Getty ImagesTrey Songz said he predicted the Steelers would play the Packers in the Super Bowl.
ESPN.com talked with Songz for a few minutes before his private party.
You played basketball, but football is your favorite sport, right?
"Yeah. I'm a Redskins fan. We've had a rough time, lately. But you know, I'm actually from Virginia, so that's the closest team we have to us, so that's always been my team since I was a little boy. A lot of people around from Virginia are actually Cowboys fans, so it's kinda crazy.
Is this your first Super Bowl event or have you done this before?
"Last year I came down to Miami and I was a part of a couple things, but this is my first thing actually with the NFL and it's an honor to be a part of the elite organization that is the NFLPA, and I'm honored to be even performing at this event. It's definitely colder than I thought it would be. It's freezing to be frank, but I'm happy to be here."
Who do you have on Sunday?
"Green Bay. I actually called Green Bay-Steelers. I called Green Bay-Steelers four weeks ago and I'm mad I didn't bet money! Because, you know, you always get it right when you don't have no money on it, right? And I think Green Bay has been playing amazing this whole year. Aaron Rogers is amazing at the quarterback position. And nothing against the Steelers. They have Super Bowl experience so a lot of people think they may take it and, you know, they're the powerhouse and I think they probably are up in favor, but I think Green Bay's gonna do their thing."