This weekend, the first pitchers and catchers report for spring training. While that phrase "pitchers and catchers report" may be magical to baseball fans, spring training isn't always such a special time to players, some of whom will be in camp for seven weeks until the season opens March 31.
Even as far back as 1919, Hall of Fame Giants pitcher Christy Mathewson wrote in The New York Times about spring training: "All big leaguers hate the training trips. Personally, I believe this is the reason so many stars hold out until the trip is pretty far along before they come to terms. Ed Roush of the Cincinnati team is one man who particularly detests a spring jaunt. He says he can get in just as good condition on his farm in Indiana."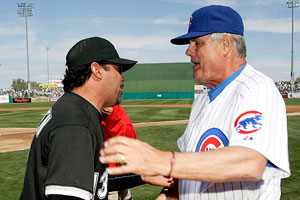 AP Photo/Paul ConnorsOzzie Guillen and Lou Piniella try to pass the time at spring training.
In the years since, other players have expressed their distaste for spring drills, longer training camps and meaningless exhibition games, including:
Jim Palmer: "I hate the cursed Oriole fundamentals. ... I've been doing them since 1964. I do them in my sleep. I hate spring training."
Ozzie Guillen: "I hate spring training. It's boring. But everyone does it."
Ryan Dempster: "Spring training was already too long. The days of guys showing up fat and out of shape are over. You just don't need seven weeks."
Lou Piniella: "I just know it's too long. I'm going to get tired of the prickly pear margaritas this spring."
Roger Clemens: "Why should I be there early, so I can stand and spit sunflower seeds? Me not being there doesn't affect workouts one bit."
Kevin Youkilis: "The worst part of spring training has got to be ground balls, because you've got to take so many ground balls. It's endless. These fields are a little choppy, so you get some bad hops. You know, ground ball after ground ball after ground ball, it just gets boring."
And then there was Babe Ruth, who at spring training in Florida in 1925 left the field in St. Petersburg one day and refused to return because of a unique spring training issue. "I ain't going out there anymore," Ruth told manager Miller Huggins. "There's an alligator."