Roy Halladay's split-finger changeup is so nasty, they should change the name of the pitch to "Something Wicked This Way Comes."
And new to "MLB 2K11," gamers will be able to throw the ace up the ace's sleeve, striking out digital batters and making them look as foolish as their real-life counterparts.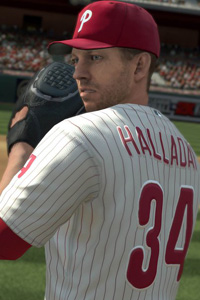 2K SportsRoy Halladay stars in "MLB 2K11."
Cool thing is, gamers have Hallady himself to thank for the new changeup being added into the game.
In a recent consulting session with the development team behind the upcoming title, Halladay's input was one of the driving forces behind the tweaks made to the game's pitching.
"Halladay and Tim Lincecum own the league with the split-finger changeup, and Halladay helped us with the break and how it works," explains "MLB 2K11" designer Sean Bailey. "He also explained how he pitches to contact every single pitch. He and (Phillies catcher) Carlos Ruiz memorize the blue zones of the Inside Edge scouting that we actually use in the game for every batter. He tries to throw a strike at their blue zone to get them to swing in order to keep his pitch count low. Halladay emphasizes pitch count in everything he does, so he was like, 'Guys, you have to show pitch count in the game.'
"So we threw out all the arbitrary video game terms like stamina and energy. Now if you pause it, we show you that pitch count. The manager tells you the range he wants you to throw, and while you don't have to listen to that advice, if you don't follow it, you're going to have a lot of tired arms in franchise."