People who've read "The Blind Side" or seen the film might think they have a clear picture of Michael Oher's stunning life story. But the Ravens left tackle -- whose itinerant childhood in Memphis, Tenn., was spurred by his mother's ongoing battle with drugs and alcohol -- says the book by Michael Lewis and (especially) the Oscar-winning film with Sandra Bullock do not accurately reflect some central aspects of his upbringing. To set the record straight -- and to raise awareness of the need for better foster-care programs in this country -- Oher has just released a memoir, "I Beat the Odds: From Homelessness to The Blind Side and Beyond."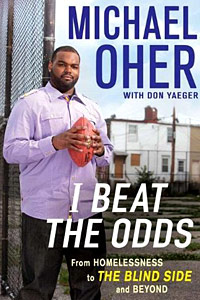 Gotham Books Michael Oher says he realizes he's a role model and wanted to write a memoir to talk about others who have helped him.
"'The Blind Side' is about how one family helped me reach my fullest potential, but what about the people and experiences that all added up to putting me in their path?" Oher writes in the memoir, which was co-written with Don Yaeger, a former associate editor for Sports Illustrated. "As anyone in my family will tell you, they were just part of a complicated series of events and personalities that helped me achieve success. They were a huge part of it, but it was a journey I'd started a long time before. And it's that journey I want to share in this book for other struggling kids who are fighting for their own way out."
"The Blind Side" opened on Oher's years at Briarcrest Christian School, a private school where he'd gone on scholarship. It was there that he came to the notice of Sean and Leigh-Anne Tuohy, whose daughter, Collins, was a classmate of Oher's. As the book and movie relate, the Tuohys learned about Oher's background and the fact that he had no permanent place to live. But they only learned as much as Oher was willing to reveal. Shy by nature, he had tried to block out many of the bad memories he had of his childhood, when his mother's problems and the intervention of foster-care authorities caused him to attend 11 different schools in nine years.
"I had needed to forget a lot of stuff in order to not get swallowed up by the hurt and sadness," he writes
But after the release of the book and movie, Oher started receiving thousands of letters, many of them from children who were also in foster care.