Work hard. Stay dedicated. Take your vitamins. (Wink, wink.) All tried and true methods for achieving athletic success. That said, if you really want to make it in sports, there's only thing to do.
Go to law school.
Jocks retire. Coaches get fired. Owners come and go. But lawyers? They endure. More importantly, they get paid handsomely, win, lose or otherwise. Case in point? Auburn University reportedly has run up a $170,000 legal bill for the NCAA investigation into Cam Newton's eligibility.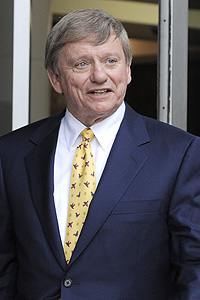 AP Photo/Pat SullivanPage 2 is dying to know how much attorney Rusty Hardin has earned representing Roger Clemens.
Think about it: Cecil Newton allegedly asked Mississippi State recruiters for up to $180,000 in exchange for his son's services. Maybe it happened. Maybe it didn't. Who cares? The Birmingham-based law firm of Lightfoot, Franklin, White LLC -- retained by Auburn since last October -- scored nearly as much for their services. Every last cent above board and accounted for.
Damn, it feels good to hold a juris doctor degree.
Indeed, the two sweetest words in the sports lexicon aren't "home run," "slam dunk" or "guaranteed contract." They're billable hours. The NFL botches Super Bowl seating. Fans sue the league, the Dallas Cowboys and Jerry Jones. Lawyers profit. Negotiators for the NFL and the NFL Players' Association -- read: lawyers -- meet in Washington to discuss a new collective bargaining agreement. Talks go nowhere. Said talks still count as a workday. Lawyers profit. Washington Redskins owner Dan Snyder dislikes a critical alt-weekly newspaper article written about him. He sues for defamation. In response, the Washington City Paper raises $18,000 in legal defense funds from readers in just five days. You think that money is going to a soup kitchen? Lawyers profit.
Oh, and all of the above is just from the past week.
Fact is, sports lawyers never have an offseason. Accused of road rage, like Redskins defensive lineman Albert Haynesworth? You'll need legal representation, the best your megabucks bonus can buy. Upset that Prince turned your rental house into a purple-painted ersatz beauty salon, like Carlos Boozer once was? Settle matters like a modern gladiator. In court. From trades to signings to drafts to stadium construction to national letters of intent, nothing in the wide world of sports -- trust us: there's no way Vinko Bogataj didn't sign a liability waiver before taking to the slopes -- and beyond gets done without litigators taking a slice of the pie. Because that's what sports and life are all about: fighting for a piece.
Perhaps it's only fitting that when the NFLPA needed an executive director to replace deceased Hall of Famer Gene Upshaw, its membership didn't choose a former player, someone who had been in the trenches, blocking and tackling and butting helmets. Nope, they chose DeMaurice Smith. A lawyer.