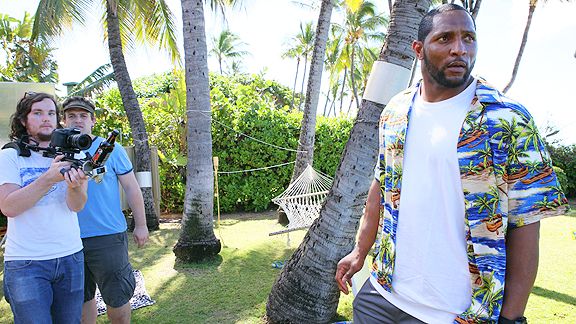 Pepsi MAX/Getty ImagesBaltimore Ravens linebacker Ray Lewis on the set of a Pepsi commercial shoot in Hawaii.
Ray Lewis joined "The Dan Patrick Show" to discuss whether he will go into acting when his NFL career is over and whom he'd like to star with in a romantic comedy.
When this is all done, are you going to get into acting? Are you going to be like "The Rock"? What kind of actor will you be?
"I'm not going to be like The Rock. I'm going to be like me, but yes, I'm going into it [acting]. I think I'm very versatile. I'm very versatile. I mean, I could definitely go into action, but action is probably the easiest one. But you know drama, suspense, things like that ... I don't like nothing about horror. I don't like nothing about that mess. But when you talk about acting, that's kind of what I do, you know. I sit at home the way people read books. That's the way I watch movies. I get the same lessons that people get because I'm a visual person. That's why I watch so many movies because I like being in the producer's head before they give you the plot of a movie, whether it's suspense, whether it's whatever. That's kind of from a kid, you know, I always used to act out whoever it was and imitate all these different people. Then when I got older, I started to realize that I was very comfortable with the camera. ... With the Pepsi Max thing with Drew [Brees], that was hilarious to create that sense of humor. This sense of horror from a Pepsi bottle that's created all this drama you know going on. You know me and Drees Brees, we had a good time. We had a real good, good, time doing it."
Are you going to be in a romantic comedy? Who's going to be your co-star?
"I would like those. I like those. Who would be my co-star? Oh, see I don't know. Just let that person pop up. Ugh. I don't know. I like a lot of actresses, like a lot of them. I like, you know, Salma Hayek. She's a great actress. Yeah, that would be awesome. Can you imagine?"
• Click here for a transcript of highlights from the interview.