Welcome back to another edition of Page 2 Jeopardy!, the quiz that tests your knowledge of sports, pop culture and assorted trivia. Please remember to phrase your responses in the form of a question.
(Correct questions at the end of the quiz.)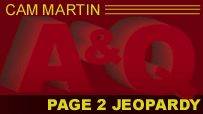 1. Answer: A man attending an illegal cockfight in California died when he was reportedly cut by this.
2. Answer: Due to declining sales, Activision announced that it's halting production of this once-popular video game series.
3. Answer: Comedy Central has green-lighted a new sports comedy show starring this onetime host of the ESPYs.
4. Answer: "Nobody's Perfect," Armando Galarraga's book about his near-perfect game, is co-written by this baseball figure.
5. Answer: This five-time Pro Bowl wide receiver, whose productivity dropped off considerably in 2010 thanks in part to poor quarterback play, recommended fantasy football owners not draft him in 2011.
Question 1: What is a razor attached to a rooster's leg?
Question 2: What is Guitar Hero?
Question 3: Who is Norm McDonald?
Question 4: Who is Jim Joyce, the umpire who blew the call that cost Galarraga the perfect game?
Question 5: Who is Larry Fitzgerald?