When Miami Heat superstars are in need of their just desserts, they look no further than Divine Delicacies.
Dwyane Wade always celebrates his special occasions with a creation from the Miami-based bakery. And LeBron James has already sampled its offerings.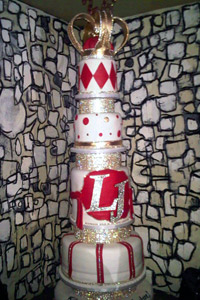 This year, Wade was feted with two designer birthday cakes: an edible gold-dusted creation on his 29th birthday on Jan. 17, and another black-and-white design for a soiree at Miami's trendy Liv Nightclub on Jan. 25.
Laura Rodriguez, co-owner and director of sales for the family-operated business, said the bakery, founded by Cuban émigrés who settled in Miami in the 1990s, was first known for its wedding cakes. But once its tasty treats started getting around, Divine Delicacies was the "it" bakery for Miami's celebrity set. And the bakery took advantage, calling itself "South Florida's Celebrity Baker."
It didn't take James long to get hooked on the bakery's custom cakes.
Since moving south in July, James has enjoyed the life-sized basketball 3-D cake at his welcome party and a sweet treat with enough bling for a King for his 29th birthday in December.
At more than 6 feet tall, James' cake included vanilla rum, red velvet and chocolate Godiva layers, more than 10,000 Swarovski crystals (they're applied on a string and come off together to guarantee no broken teeth from a wayward bite), and was topped off with a edible crown made of fondant.
"The best thing about a cake is what it celebrates." Wade said. "It celebrates from a birthday standpoint another year of life. It's always cool to see how they decorate it and how smooth it is. LeBron's with the whole king theme was awesome."
Apparently, James was impressed enough to tweet to fans about the cake, even attaching a photo to his message, saying, "Forgot to show y'all my b'day cake!"