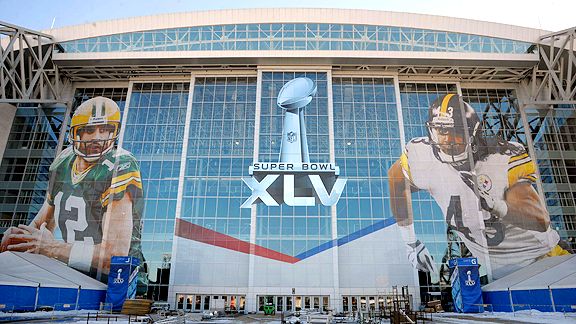 Kirby Lee/Image of Sport/US PresswireJerry Jones' quest for the biggest Super Bowl went bust.
Michael J. Avenatti, the lawyer representing the group of fans displaced at the Super Bowl, joined ESPN Radio Dallas to talk about the suit and how they arrived at the $5 million figure.
If he was unsatisfied when he heard what the NFL was trying to do to accommodate the upset fans:
"Well actually I did not think that, my clients thought that and people again contacted me and said, 'Look, this is not right. This is not satisfactory' because in many instances people paid far more than what the NFL was offered for their tickets. In fact on the Wednesday before the Super Bowl the NFL Ticket Exchange, which is the official exchange for the NFL run by Ticketmaster, they issued a press release that the average ticket price that was sold was $4,118 and that the cheapest ticket, I think, was $2,900, was being offered. So the NFL knows full well that $2,400 does not cut it and that is before you get to the expenses people incurred to travel to Dallas to go to the game. No one is attempting to get rich from this lawsuit, not my clients and certainly not me. It is not that type of lawsuit. This is a legitimate case brought by people that merely want what they paid for and they want compensation for it."
How many clients he has and how they arrived at $5 million being adequate for compensation:
"Well it is approximately 1,000 people and the $5 million there is nothing magical about that number. It is likely to be in excess of $5 million. It was merely a number put into the complaint. We don't know what the full extent of the dollars is to be honest with you because, again, we are merely trying to get compensation for fans' out-of-pockets costs, whatever they paid for tickets plus their expenses and the NFL should step up and offer something for these fans for their inconvenience. It is really no different if you think about it than the NFL processing an expense report for Roger Goodell or many of the other executives that traveled to the Super Bowl. We merely want them to do the same thing for these fans."
If he has been able to figure out how something like this can happen:
"We have not but we are well on our way and we think as we delve into this we are going to find some facts that are likely to be pretty disturbing about what people knew and when they knew it. The fact of the matter is Cowboys Stadium has been a fantastic facility, state-of-the-art facility. It normally seats approximately 85,000 fans and frankly that should have been enough. Jerry Jones should have chosen quality over quantity and unfortunately he did not do so."
• Click here for a transcript of highlights from the interview.