BMX vert legend Mat Hoffman, together with pro BMXers Dave Voelker, Mike 'Rooftop' Escamilla and X Games medalist Simon Tabron, are performing alongside Canadian alternative band Arcade Fire at the 53rd annual Grammy Awards Sunday in Los Angeles.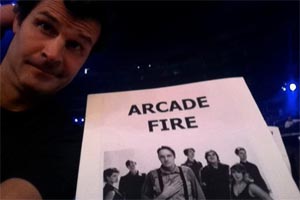 Courtesy of Mat HoffmanMat Hoffman at Staples Center in L.A, just prior to a rehearsal for the 53rd Grammys alongside the Canadian alternative band Arcade Fire.
"Spike [Jonze] suggested me to Arcade Fire to gather up a posse and ride around them as they play at The Grammys. It's a weird life," Hoffman said Thursday. "Today, we met the band and did a run-through."
This week, Hoffman and company were rehearsing their scenes with the band. According to Hoffman, the first rehearsal didn't go quite as planned.
"I ghost-rode my bike offstage and it almost hit a camera guy and they freaked out. I almost got kicked out before we even figured out what we were going to do," he said.
Arcade Fire are up for three nominations: Album Of The Year and Best Alternative Music Album for their third studio album "The Suburbs," and Best Rock Performance By A Duo Or Group With Vocals for the song "Ready To Start."