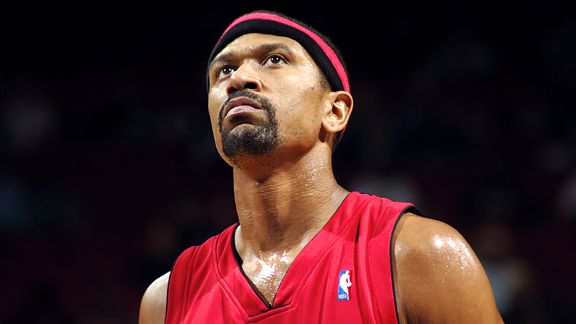 Gary Bassing/Getty ImagesMonday is Valentine's Day and Jalen Rose makes our All-Valentine's Team.
Call, text, email or IM your sweetheart -- or maybe just do the old-school live-in-person talking thing -- and wish him or her a lovely Feb. 14. But don't open the box or head out to dinner before checking our All-Valentine's Team:
Pasqual Coco: As gifts go, chocolate isn't especially distinctive, but then again, neither was Pasqual Coco, for whom Major League life was short but not sweet. In 19 innings, between 2000-2002 for the Toronto Blue Jays, he walked 14 batters and hit three others.
Cupid Childs: Clarence Lemuel Childs had a great sense of timing. He didn't merely hit .306 in a long career. He knew when to get out of town. He played several seasons with the Cleveland Spiders, finishing his tenure there in 1898. The following season, the Spiders went 20-134 to set the standard for professional sports futility now being hotly pursued by another Cleveland club that shall remain nameless. By 1899, Childs was a member of the St. Louis Perfectos, who, while less than perfect, were a solid 84-67.
Kevin Love: What's not to like? The basketball gods played an evil trick on the California native and Beach Boys nephew when they assigned him to Minnesota, but Love has blossomed in the frigid northlands. He's good for 20 points and 12 rebounds a night this season. That's the sort of consistency that makes for long-term relationships. It remains to be seen how long he'll continue his affair with the Twin Cities, of course.
Jalen Rose: The current ESPN commentator and former NBA star was one of Michigan's Fab Five nearly two decades ago. These days, a rose by any other name is Derrick, he of the Chicago Bulls, who has averaged 20 points per game in three seasons. Jalen's long wingspan and court vision frustrated defenders and kept him around the league for 13 years.
Richmond Flowers: Sounds like a retail business in the capital city of the Commonwealth of Virginia, and, in fact, if you Google his name, a florist in Richmond is the first entry. But this guy was a versatile player (wide receiver and defensive back) for the Cowboys and Giants who saw action in Super Bowl V.
Jewel Hampton: Jewels may be a girl's best friend, but Jewel is certainly not Iowa's best friend. After getting knicked up a bit -- a two knee injuries knocked the promising Iowa Hawkeye's career into the bargain bin -- he has announced his intensions to transfer for unspecified reasons.