Diamonds may be a girl's best friend, but Topps is hoping she'll remember baseball cards, too.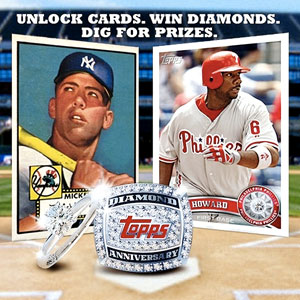 ToppsTo celebrate its 60th anniversary, Topps is giving away a diamond ring on Valentine's Day.
As part of its 60th anniversary celebration, the company will give a $10,000 diamond engagement ring to one lucky couple on Monday -- Valentine's Day -- at Grand Central station in New York City.
How? Ten men will be digging to find hidden treasure in a pit as part of the company's diamond anniversary celebration. It's a publicity stunt that started with couples posting videos on the Topps Facebook page.
"This is a great way for Topps to celebrate our diamond anniversary," said Warren Friss, Topps vice president-general manager. "[It gives] one lucky couple an opportunity to make this Valentine's Day even more special."
It's not the only diamond-related thing Topps has in the works this year, either.
While the 10 couples were selected for Monday's "diamond dig" based on their Facebook videos, the rest of us will have a chance to unearth one of a few Super Bowl-style Topps diamond rings via code cards found in packs of 2011 baseball cards.
The Diamond Anniversary cards are found one in every six packs of 2011 Topps, and the code found on each one can be entered online at diamond.toppscard.com. Among the items that might be found are baseball cards with actual diamonds embedded into them, cards cut in diamond shapes, baseball cards from past sets and, of course, the diamond ring with no marriage necessary.