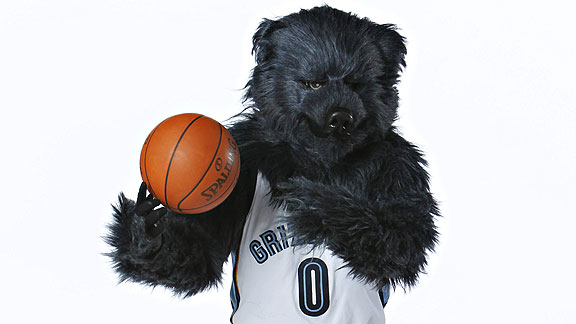 Joe Murphy/NBAE/Getty ImagesMemphis Grizzlies mascot Grizz is available to deliver game tickets to your Valentine. Yes, seriously.
Every February, teams capitalize on Valentine's Day mania with special ticket promotions and deals. A guy or gal looking to surprise his or her sports-lovin' significant other can take in a ballgame instead of hitting up a pricey restaurant, and he or she can even let the team's staff do the dirty work, supplying the flowers and candy for the big date.
The idea seems to be a hot one in Phoenix, as the Coyotes already have sold out their Valentine's Day Club South Package. The deal includes two tickets to Monday's contest with the Washington Capitals, drinks and a dinner buffet for two, a long-stem rose and a message on the arena scoreboard. (We can only hope some poor gal doesn't get the dreaded scoreboard marriage proposal.)
NBA teams are tying their product to the most Hallmark of holidays, too. The Milwaukee Bucks have three different offers for Monday's game against the Los Angeles Clippers, and each one includes a pair of "Fear The Deer" tees, one in black and, you guessed it, one in pink. (Sigh.) Spring training just started, but baseball teams are offering promotions as well. Down in Houston, the Astros are thinking ahead, offering a Valentine's Day 6-Game Flex Plan that includes tickets to six games during the 2011 season and a $50 gift card to a local jewelry store.