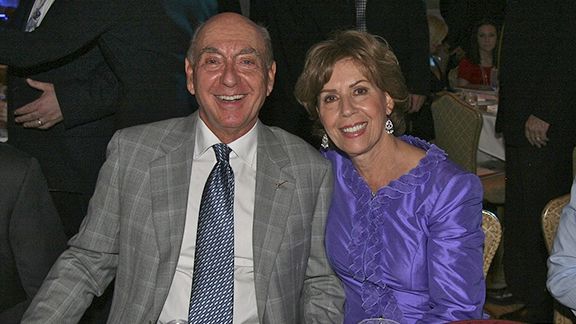 Laura Tellor/V FoundationDick Vitale had a wonderful time at a recent gala with his wife, Lorraine.
Before Justin Beiber was singing "Baby" (or born, for that matter), Dick Vitale was dazzling the college basketball world with an awesome language of his own. But when he's not calling games across the country, he's usually calling on the Prime-Time Player of life, his wife Lorraine. Vitale took some time out of his busy schedule to school us Page 2 Diaper Dandies on the language of love …
What's your most memorable Valentine's Day moment? "My life has been a Valentine's Day I truly love … every day is Valentine's Day for me!"
What advice would you give singles on Valentine's Day? "Find the right match, baby! Then scream loud and clear that you are awesome baby with a capital A!"
When is it OK to use the romanticized version of the term "baby"? "While having a special dinner with someone you love."
Best Valentine's Day gift: Chocolate, flowers, dinner, jewelry or something else? "Go out shopping and buy something your loved one loves. I have gone out and bought jewelry and clothing and my wife is constantly amazed at how well I do at Valentine's Day. Getting flowers is easy."
Have you been heartbroken more by love or by sports? "Both. Early in my life, the love of my life said bye-bye, baby! I was heartbroken until I found my sweet Lorraine. In the 40 years since, I have been heartbroken more by sports."
How has dating changed from when you went on your first date?  "Tough for me to answer since I have not been on a date in 40 years! Our first date was a Dionne Warwick concert though and we recently saw her again. That brought back a lot of sweet memories."