Just two games into his comeback -- make that his latest comeback -- with the Colorado Avalanche, Peter Forsberg is calling it quits. For now. Possibly because he's 37 years old and has suffered a series of foot and ankle injuries. Probably because he was a cumulative minus-4 with no goals and no assists in 30-plus minutes of ice time.
How does Forsberg's return compare to some other notable sports comebacks? Play our match game to find out: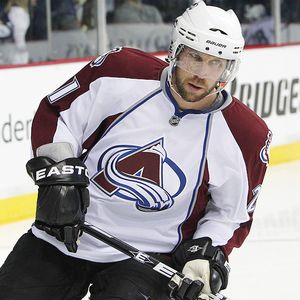 AP Photo/Mark HumphreyHow does Peter Forsberg's latest comeback stack
up against those of other athletes in sports history?
Athlete
1. Bjorn Borg
2. Martina Hingis
3. Michael Jordan
4. Jim Palmer
5. Brett Favre
6. Mario Lemieux
7. Mark Spitz
8. Lance Armstrong
9. Bob Cousy
10. Sugar Ray Leonard
11. Roger Clemens
Outcome
a. Averaged 0.7 points and 1.4 assists as 41-year-old player/coach; later admitted he came back "for the money."
b. Won league scoring title during first comeback; MVP finalist during second comeback.
c. Finished third in Tour de France while sniping publicly with winning teammate; later denied drug use allegations.
d. Despite hydrodynamic loss of signature mustache, failed to qualify for Olympics following two-decade hiatus.
e. Climbed to No. 6 in world rankings but re-retired after testing positive for cocaine.
f. Left front-office gig to return to court; unceremoniously booted from front office gig following re-retirement.
g. Fifth -- and presumably final -- comeback ended in knockout loss to Hector "Macho" Camacho.
h. Returned to pro tennis wielding an old school wooden racket; lost 12 straight matches over two-year period before re-retiring.
i. "GOODNESS GRACIOUS! OF ALL THE DRAMATIC THINGS I'VE EVER SEEN!"
j. Propelled Minnesota Vikings to NFC Championship Game and Tracy Porter to his second-biggest career highlight.
k. Shelled during lone spring training comeback game; when a coach who didn't recognize him said, "you'll never get into the Hall of Fame with those mechanics," he replied, "I'm already in the Hall of Fame."
Answer key: 1, h; 2, e; 3, f; 4, k; 5, j; 6, b; 7, d; 8, c; 9, a; 10, g; 11, i.