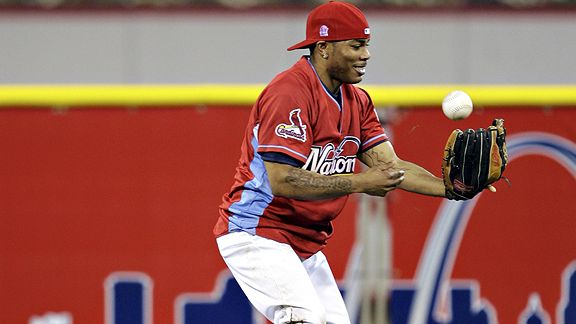 Jamie Squire/Getty ImagesNelly is a monster fan of the hometown St. Louis Cardinals. Will Albert Pujols go up in a dream?
ST. LOUIS -- Shall we have some fun? Turn on Nelly's "Just a Dream" and think about Albert Pujols.
Think about St. Louis Cardinals general manager John Mozeliak witnessing a dream come true: Stan Musial receiving the Presidential Medal of Freedom in Washington Tuesday. Then think about him getting on a plane and heading back to Jupiter, Fla., to address his own personal nightmare: the deadline for the Albert Pujols contract extension talks.
Mozeliak will need that quiet plane ride to reflect. He'll put his headphones in, and Nelly's "Just a Dream" will come on. He'll think about what he's going to say to the media. He'll listen to Nelly's song, he'll drift off to sleep thinking about a press conference …
I was thinkin' about Pujols, thinkin' about me,
Thinkin' about St. Louis, what we gonna be?
Open my eyes, yeah; it was only just a dream.
So I travel back, down that road,
Will he come back? No one knows.
I realize, yeah, it was only just a dream.
I was at the top and now it's like I'm in the basement.
He's a Cardinal lifer and now will he find a replacement?
I swear now I can't take it, knowing the Cubs could get my Pujols.
And now #albertageddon is on, baby I can't think.
Shoulda put more years down, Should given more bling,
Cuz his talent fills the stadium air
See his numbers soar, other teams sayin it's not fair
My Pujols, My first baseman, My El Hombre, My Cardinals …
He'll leave us, we tried
Cuz I knew 10 years wasn't right
Was thinkin about Pujols, thinkin about me,
Thinkin' about St. Louis, what we gonna be?
Open my eyes, yeah; it was only just a dream …