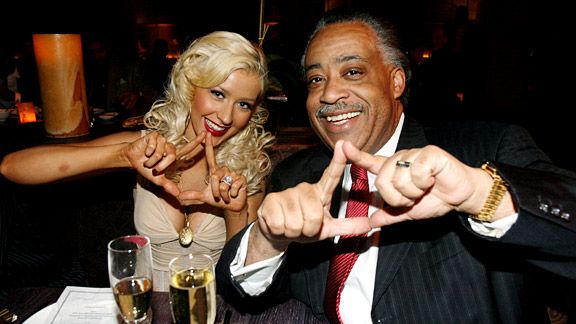 Getty ImagesWhere else but All-Star Weekend can you see Christina Aguilera and Al Sharpton partying together?
We all know Hollywood knows how to put on a show.
NBA All-Star Weekend happens in Tinseltown this year, and the stars will be out and about in celebration of the hoopmania. Of course, because it's Hollywood, expect reality TV cameras -- ahem, Lamar Odom and Khloe Kardashian -- to be circling around capturing some of the best candid moments of some of the biggest names in sports at some of the most exclusive events happening this weekend.
Here's a breakdown at what events some of your favorite celebrities and athletes might be tweeting about this weekend:
THURSDAY
The Baron Davis CT 200h Challenge
Location: Downtown Los Angeles
The Clippers guard and some of his celebrity friends will be racing Lexuses around downtown Los Angeles in the name of charity. Davis is raising money for his foundation, Rising Stars of America (RSOA). Participating celebs include Terrell Owens, Craig Smith, Dule Hill, Jessica Alba, Keyon Dooling, Michael Strahan, Anthony Anderson and Jesse Metcalfe. The winner will receive either a year's lease of a Lexus CT 200h or the opportunity to donate the lease of the vehicle to a charity of his or her choice.
NBA All-Star Block Party Kickoff
Location: Sportie L.A.
Former Laker Rick Fox will host a kickoff event and has invited friends to play in a celebrity hoops competition, get treated to on-site grooming like shaves and haircuts, to eat and to celebrate the forthcoming weekend.