Welcome back to another edition of Page 2 Jeopardy!, the quiz that tests your knowledge of sports, pop culture and assorted trivia. Please remember to phrase your responses in the form of a question.
(Correct questions at the end of the quiz.)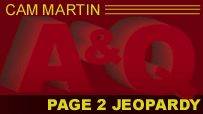 1. Answer: Of raking the eyes, hitting with a folding chair or head-butting, the transgression that AC Milan captain Gennaro Gattuso had to apologize for after losing his cool in an argument with Tottenham assistant coach Joe Jordan.
2. Answer: After Fedor Emelianenko's loss to Anderson Silva in a Strikeforce match, Emelianenko's trainer accused Silva's team of hobbling his fighter before the match by doing this to him.
3. Answer: Russian model Irina Shayk, cover girl of the 2011 Sports Illustrated swimsuit Issue, is dating this Portuguese soccer star.
4. Answer: Tough luck for some male fans of "Jersey Shore:" This one-time cast member is reportedly engaged.
5. Answer: Actress Adrianne Palicki, who plays Tyra Collette on "Friday Night Lights," has been lassoed to play this female superhero in an upcoming NBC pilot.
Question 1: What is head-butting?
Question 2: What is hypnotizing him?
Question 3: Who is Cristiano Ronaldo?
Question 4: Who is Angelina?
Question 5: Who is Wonder Woman?