The Miami Heat's Chris Bosh may be 6-foot-11, but that's nothing compared to the 10-foot-tall co-star of his "Got Milk" ad, Mainard.
Granted, Mainard is a 1-year-old giraffe.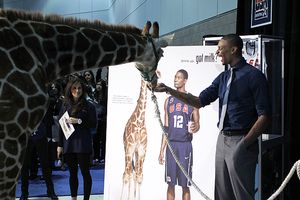 Gregory Shamus/NBAE/Getty ImagesChris Bosh feeds his co-star, Mainard.
"He grew a lot since the last time I saw him!" said Bosh, who shot the ad in September and reunited with Mainard on Thursday to launch it during NBA All-Star weekend. "He didn't try to eat my tie or eat my pants or anything like that. He was well-behaved."
The "Got Milk" ad is Bosh's second for the campaign. The first, last August, featured Bosh dunking in a stadium full of video game characters and became news for being the first national marketing deal signed after Bosh and LeBron James joined Dwyane Wade with the Heat.
"This one is more unique than the first one," Bosh said Thursday from Los Angeles, where he had arrived earlier that day for All-Star weekend, joined by James and Wade as Eastern Conference All-Stars.
The Heat come off a 103-95 win over Bosh's former team, the Toronto Raptors, on Wednesday, when Bosh was met with mixed greetings and some unfriendly signs. One was a "Catwoman" poster, dubbing Bosh as Catwoman with Wade as Batman and James as Robin.
"I mean, my thing is, if somebody thinks up something and they take all day and put all of their thought into something and put you on it, you know, at the end of the day it's a compliment," Bosh said. "You've been thinking about me all day? You put a picture of me on there? Come on!"
With Toronto behind him, Bosh is ready to enjoy the All-Star weekend. As for the whole East vs. West matchup? He's not concerned.
"It's not that much of a rivalry; it's not that serious," Bosh said. "Whoever has the most fun, I think, that's the team that usually wins."