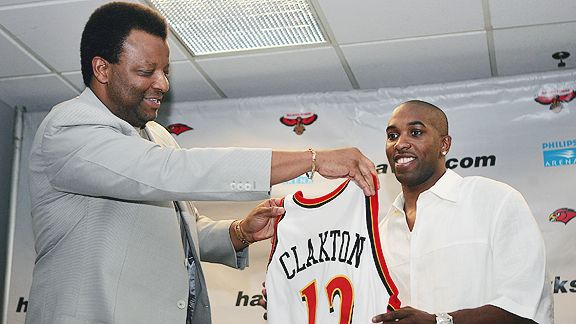 AP Photo/John BazemoreFormer NBA star Speedy Claxton highlights Page 2's All-Speed Team.
It's NASCAR season again. OK, it's always NASCAR season. As one scribe put it, "The year consists of NASCAR season and Christmas." As Emerson, Lake and Palmer put it, "Welcome back, my friends, to the show that never ends." With that in mind, strap yourself in for the Daytona 500 and take a spin with Page 2's All-Speed Team:
Speedy Claxton: Some nicknames require explanations and vast research into inside jokes originating in clubhouses. Craig Claxton preferred the obvious. Although his first step was often hindered by a series of injuries, he did help the San Antonio Spurs win the NBA title in 2003. And there was no doubt about his quickness at Hofstra, for which he played when the school still had a cool nickname: the Flying Dutchmen. He retired from the NBA in 2010.
Frank Fleet: A middle infielder in baseball's earliest years, Fleet probably wasn't. In 88 games from 1871-75, he was credited with two stolen bases.
Pit Gilman: While Fleet was playing in the big leagues -- or something similar -- Pitkin Clark Gilman was among the first minor leaguers in history, logging 92 games for the Class B Charleston Seagulls in 1886. And while he was in there, he didn't spend much time in the pits. He swiped 64 bases in his brief professional tenure.
Oval Jaynes: Like many athletics administrators, Jaynes must have felt like he was always on the move, and his career did come full-circle, geographically speaking. He went from Auburn to Colorado State to Pittsburgh to Idaho to Chattanooga and now to Jacksonville (Ala.) State, where he announced Wednesday that he will retire at the end of the school year after three years as AD and 53 years in college athletics.
Mike Quick: A name like that gives you instant credibility as a wide receiver, and Quick backed it up. As a Philadelphia Eagle (1982-90), he played in five Pro Bowls and caught 61 touchdown passes. He's one of only 12 players with a 99-yard reception, a record that may never be broken.
James Race: For James, the race wasn't long. It consisted of 19 games for the 1945 Lima Reds in the Class D Ohio State League, and it was often filled with the opposition dashing around the bases. Or at least walking to them. Race walked 42 men in 77 innings.
Lake Speed: His name sounds best equipped for the American Power Boat Association, but Lake Chambers Speed enjoyed a 19-year NASCAR career that included 75 Top-10 finishes. In his youth, Speed raced virtually anything with an engine and, legend has it, settled on NASCAR without having procured a vehicle. He found one and promptly took eighth place in his first competition.