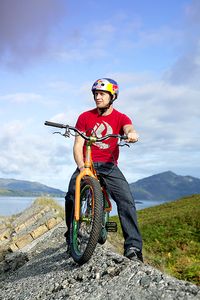 Paul CalverDanny MacAskill at home on Isle of Skye in Scotland.
If you're prone to clicking video links that millions of people share like virtual head lice every day, you've probably seen the clip of Danny MacAskill on his bike.
His first trial riding clip, "Inspired Bicycles," was uploaded to YouTube nearly two years ago and has since been viewed more than 23 million times to date. This weekend, MacAskill will release a new film to a different audience than he usually connects with by clicking "Upload Now" from his apartment in Scotland.
At the Hawke and Hunter in Edinburgh, MacAskill is set to premiere the full-length feature documentary "Way Back Home," along with a showing of the two YouTube clips that made him famous. (Those unable to make it to Scotland can catch the premiere via redbull.tv Sunday evening.)
Ten months in the making, the documentary explores MacAskill's bike stunt journey with his director, Dave Sowerby, from Edinburgh to his hometown of Dunvegan on the Isle of Skye.