A car?
Blake Griffin won the NBA All-Star dunk contest by jumping over a new car. Every dad out there with both a new car and a teenage son wants to thank Blake -- for nothing!
"Hey, where's my new car?" asks Dad all across America.
"Oh, Johnnie parked it beneath his basket out back," says Mom.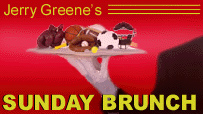 And then there's that crashing noise.
Even worse, where will this stop? Griffin admitted he didn't know, adding that if he did defend his dunk championship next year he might resort to this: "I have to come up with something else. Maybe a boat next year."
JaVale McGee tried to compete. He dunked on two baskets simultaneously and even pulled off a three-ball dunk (eventually) but knew he was beaten as soon as they pushed that new Kia onto the court.
Next year, JaVale?
"He definitely came prepared with the car, and nothing's going to beat the car unless I bring a plane out or something."
A boat, a plane.
Where will this end?
While we ponder this disturbing trend, here are a few more brief notes from the week that was while we await the main courses in the Brunch provided by the best in the biz.