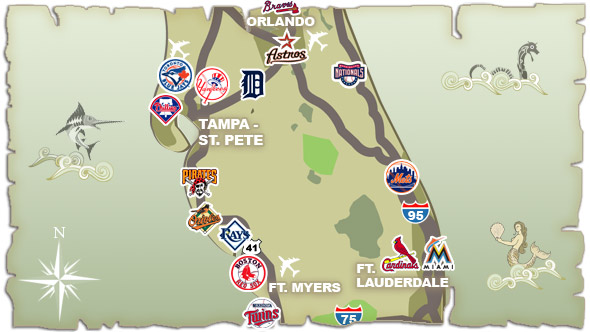 Illustration by Eliot Krohn
• Quick clicks to your favorite team:
Astros
|
Blue Jays
|
Braves
|
Cardinals
|
Marlins
|
Mets
Nationals
|
Orioles
|
Phillies
|
Pirates
|
Rays
|
Red Sox
|
Tigers
|
Twins
|
Yankees
• Photo gallery: Tour all 24 spring stadiums

| Also: Cactus League Overview
Two bits of baseball lore encapsulate the magic that is hardball under the Florida sun.
The first explains how spring ball originally arrived in Florida and personifies the Sunshine State's restorative powers. It stars a Pittsburgh businessman with six months -- give or take -- to live.
The second explains how the Grapefruit League received its name. It speaks to the levity characteristic of the Florida game. It's a ripe story, starring two of the game's more colorful jokesters and a juicy piece of fruit.
We begin with a tip of the cap to the very first baseball road-tripper to visit Florida. His name was Al Lang, and he is considered the grandfather of the Grapefruit League.