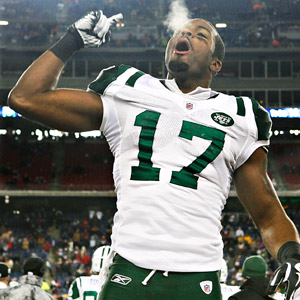 AP Photo/Stephan SavoiaBraylon Edwards admires "Wall Street" character Gordon Gecko.
In the Pro's Questionnaire, our favorite sports figures take an abridged version of the most famous personality test, the Proust Questionnaire. We've got New York Jets wide receiver Braylon Edwards, who caught for a team-high 904 yards last year, up next.
Your chief characteristic:
Braylon Edwards: Sense of humor.
Your main fault:
BE: Trying to please everyone.
Your idea of happiness:
BE: Sipping a brew in the basement, shooting pool with my pops, while listening to Marvin Gaye (RIP).
Your idea of misery:
BE: Not being able to play football.
If not yourself, who would you want to be?
BE: Gordon Gecko (Wall Street 1 and 2).