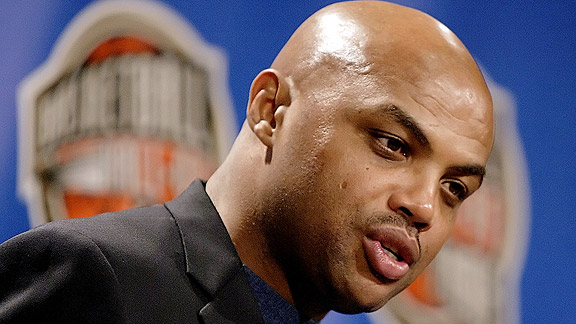 AP Photo/Stephan SavoiaCharles Barkley says Cam Newton still ranks behind him and Bo Jackson at Auburn.
Charles Barkley joined KJOX in Birmingham, Ala., to talk about the All Star Game and surrounding festivities including who his favorite musical performers were, meeting Cam Newton, and other fun topics in a lengthy chat with his hometown guys.
On what he thought was the best musical performer of the week, a question currently being polled on his new website, CharlesBarkley.com:
"Well I'm going to cross off Cee Lo Green because I love that song and when you say the words 'Forget You' instead of the real words, it's makes the song suck. ... I've heard it a couple times when he says 'Forget You,' I'm like, that is such a waste. It kills the song. But I'll tell you who I liked -- Lenny Kravitz. Lenny Kravitz sang the private TNT party, he sang a little bit at the All Star Game, but TNT has a party every year for all the TNT employees and their sponsors. We had a private concert Saturday night with Lenny Kravitz, and I like me some Lenny Kravitz.
The hosts then mention Bruno Mars and Barkley is off and running:
"Oh my God. Let me tell you how old Kevin McHale is. So we're doing our show Saturday afternoon and Kevin McHale says, 'Wow what's that guy's name? I really like him.' I said, 'Kevin, that's Bruno Mars. He has the No. 1 song in the world right now.' ... Kevin says he don't listen to today's music. I say dude, Bruno Mars is like, I love his music. He's got this little Frank Sinatra vibe working too."
On meeting Cam Newton and if he was the one who got him tickets to the game:
"You know, I finally got a chance to meet him. Since I keep getting him tickets to all these events, I joked with him, 'I keep hearing I'm getting you tickets to all these events.' I finally got a chance to meet him. He came over, we were actually staying at the same hotel and he came over and said hello to me. And I just told him how proud I am of him and the Auburn team, and what a great season they had. ... Then I said I love you, I'm proud of you, but you can't ever go any higher than No. 3 on the list behind me and Bo [Jackson]. No matter what you accomplished, I said if you had stayed another year and did what you did this year I might have moved you up. But right now, I'm No. 1, Bo [is] No. 2, and you're No. 3. And I felt bad that I had to move Frank Thomas down to No. 4."
• Click here for a transcript of highlights from the interview, including Barkley's thoughts on the Carmelo Anthony trade.