Welcome back to another edition of Page 2 Jeopardy!, the quiz that tests your knowledge of sports, pop culture and assorted trivia. Please remember to phrase your responses in the form of a question.
(Correct questions at the end of the quiz.)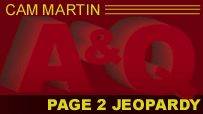 1. Answer: In light of the rampant violence in his home country of Mexico, Royals closer Joakim Soria asked fans to stop referring to him by this nickname.
2. Answer: To the relief of water coolers throughout baseball, this infamous hothead announced he's been cured of his anger issues.
3. Answer: In the event of an NFL lockout, this highly touted quarterback prospect said he might play baseball for the Angels franchise, which drafted him in the 10th round in 2009, gave him a $250,000 signing bonus and hold his rights until 2015.
4. Answer: These two well-known Red Sox fans are reportedly working together on a movie script about Mike Kekich and Fritz Peterson, two former Yankees who swapped wives in the 1970s.
5. Answer: This one-time NBA high-flier scoffed at Blake Griffin's signature dunk in the Slam Dunk contest, saying "He swung over the car and landed on the hood of the car. I think he should at least be able to jump over the front of the car. I'm 41 years old and right now I could do it. Two Smart Cars."
Question 1: What is "The Mexicutioner"?
Question 2: Who is Carlos Zambrano?
Question 3: Who is Jake Locker?
Question 4: Who are Matt Damon and Ben Affleck?
Question 5: Who is Shawn Kemp?