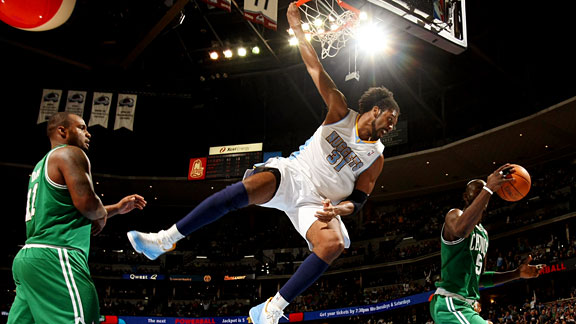 Doug Pensinger/Getty ImagesWhat's Nene thinking, after he hangs from the rim after dunking against the Celtics?
At Page 2, we know you're funny, so share your gift. We'll find a great photo, and you provide the caption.
Nene is called for a technical foul as he hangs on the rim after dunking, as Glen Davis and Kevin Garnett look on during the Nuggets' 89-75 win over the Celtics on Thursday at the Pepsi Center in Denver.
Give us your caption in the comments.
Yesterday: Our favorite from the photo of Carmelo Anthony and Chauncey Billups smiling from user 96Orange: "Next week I'm going to score us some tickets to the Big East Tournament or 'Wicked,' whichever you prefer."