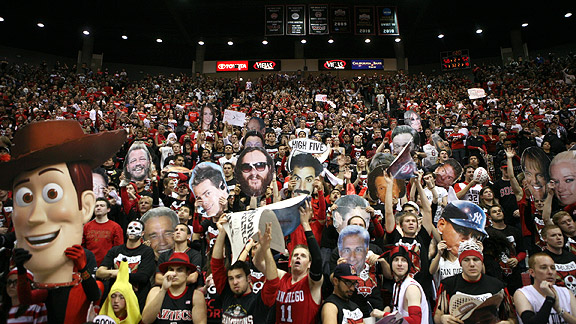 San Diego State University Media Relations -- Stan LiuSan Diego State's student section, "The Show," is primed for Saturday's showdown against BYU.
At some point during Saturday's highly anticipated basketball game between BYU and San Diego State, expect to see a large photo of Cougars star Jimmer Fredette held aloft in the Aztecs rowdy student section, "The Show."
It won't be an image of the dashing, high-scoring Fredette of 2011, but rather one from his past. Expect to see Fatty Fredette, courtesy of some fine Facebook sleuthing.
"We have some images of Jimmer as a chubby teenager," says Brian Johnson, 25, a grad student at SDSU and a longtime member of "The Show." "Apparently he was a chubby kid."
So, if one photo is good, why not two? Or three? Or 40?
"The Show" doesn't want to tip its hand about specifics, but expect to see lots of signs and Mormon missionary outfits ... and perhaps a pregame sacrifice of a BYU-clad Jimmer scarecrow.
After all, this is BYU and Jimmer Fredette coming to town, so "The Show" -- which has helped turn Viejas Arena into one of the loudest and electric home courts in America --has been cramming for this midterm for weeks.