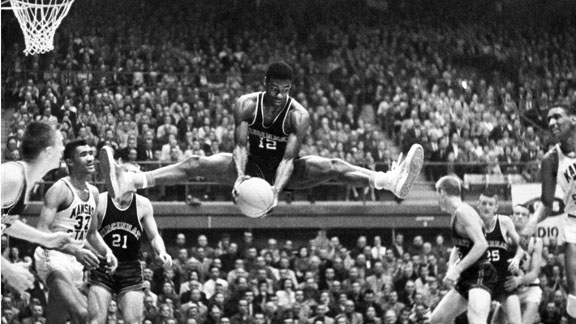 Collegiate Images/Getty ImagesOscar Robertson deserves an Oscar for this move alone, much less averaging a triple-double.
The Academy of Motion Picture Arts and Sciences will hand out its Oscars on Sunday night at the 83rd Academy Awards. But really, who deserves an Oscar more than these Oscars?
Best performance in a court scene: Oscar Robertson, "The Big O," is the only NBA player ever to average a triple-double for an entire season and the guy for whom a college basketball player of the year trophy is named.
Most memorable performance in a death scene: Heavyweight boxer Oscar Bonavena was not without talent, going 58-9-1 in his career and holding his own against both Joe Frazier and Muhammad Ali. But the Argentine is mostly remembered for being gunned down in front of the Mustang Ranch brothel in Nevada in 1976.
Best performance on a diamond: Oscar Charleston never got the chance to play in the big leagues and never got the acclaim he deserved, but the Negro Leagues star and Hall of Famer had a lifetime average of .348 and was compared by contemporaries to the greatest stars of his era.
Best performance by a shooting guard with no conscience: Oscar Schmidt -- usually just known as Oscar -- is the greatest basketball player from Brazil and one of the top Olympians of all time. The 6-foot-8 gunner averaged 42.3 points per game in the 1988 Games and was the leading overall scorer in three of his five Olympic tournaments.
Best performance by a sports writer: Oscar Madison never blogged, tweeted or carried a laptop, but what other ink-stained wretch ever made it to Broadway?