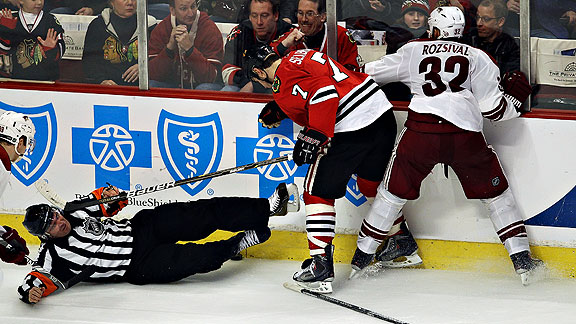 Jonathan Daniel/Getty ImagesThis is why we can't have nice things in hockey... someone's knocked the referee down.
At Page 2, we know you're funny, so share your gift. We'll find a great photo, and you provide the caption.
Referee Stephane Auger is knocked to the ice as Brent Seabrook of the Chicago Blackhawks and Michal Rozsival of the Phoenix Coyotes battle for the puck on Sunday during the Blackhawks' 4-3 shootout win over the Coyotes at the United Center in Chicago.
Give us your caption in the comments.
Friday: Our favorite from the photo of Nene hanging from the rim against the Celtics from user pinnacleath19: "I'm not coming down until Carmelo comes back!"