YPSILANTI, Mich. -- Earl Boykins has made a career of frustrating the bejeezus out of NBA opponents -- which, while standing all of 5-foot-5, can be a tall order.
But even at 34, the second shortest player in league history behind 5-foot-3 Muggsy Bogues, has no plans to walk away. Not when even after 12 years of survival, the diminutive Milwaukee Bucks guard is still finding ways to prove his critics wrong.
"I'm going to retire and do what?" Boykins said Sunday before his Eastern Michigan jersey was retired. "You got a job that makes what I make? Let me know about it.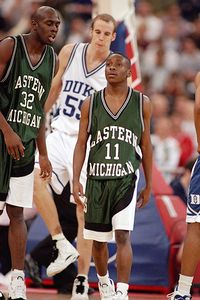 Jamie Squire /AllsportEarl Boykins scored 23 points to lead Eastern Michigan past Duke 75-60 in the 1996 NCAA tourney.
"Until then, I'll keep playing."
In 627 games with 10 NBA teams, Boykins is still fueled by his doubters. Each crop of rookies marvels that Boykins is still around 13 years after he ranked second nationally in scoring with 25.7 points per game for the Eagles as a senior in 1998.
Eastern Michigan compiled an 87-36 record during Boykins' four years there.
Former Eastern Michigan coach Milton Barnes isn't surprised. He credits Boykins with carving out a niche by getting the most out of the vertically challenged frame he always considered a blessing in disguise.
"Earl loves a challenge -- if you told him he couldn't do something, he would prove you wrong," Barnes said. "But he has that drive and not many people have that."
Boykins, who is averaging 8.2 points and 2.5 assists per game in his second stint with the Bucks, is still up to his old tricks.
The crafty veteran still finds ways to goad opposing guards, making them think they have the upper hand and unwittingly short-changing Boykins.
That's when Boykins just smiles.
"Whenever you step on the court, it's an opportunity to prove that you belong," Boykins said. "But I always have the advantage because (opposing guards) always have to make an adjustment.
"I'm always shorter, so it's a regular game."