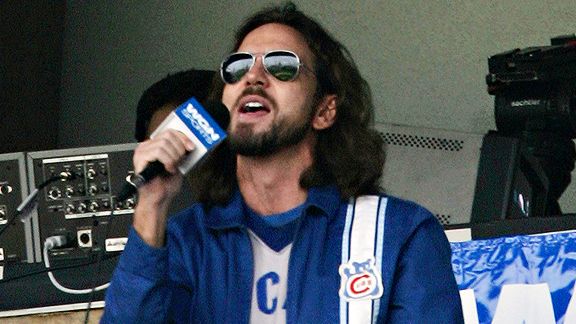 Jonathan Daniel/Getty ImagesPearl Jam's Eddie Vedder is a huge Cubs fan who grew up in Evanston, Ill.
The Chicago Cubs advertised an open casting call for their Public Address Announcer on careerbuilder.com on Monday.
While we at Page 2 quickly scrambled to put together our own audition tapes, we couldn't help but ponder the Top 10 leading Cubbie PA candidates.

1. Charlie Sheen: Since Sheen's schedule is wide open, not to mention the Cleveland fireballer of film fame is currently on fire, we feel Charlie makes a fine candidate. Armed with witticisms like "Battle-tested bayonets, bro," "Winning," and "Fire-breathing fists," we think the "Wild Thing" would certainly make life at Chicago's Friendly Confines that much more interesting. We can only imagine what a Charlie Sheen video application might look like (the challenge has been issued, YouTube mash-up makers). In our opinion, we think the self-proclaimed "F-18" would blow the competition away.
2. Steve Bartman: This might seem like it is from left field. After all, during the aftermath of the 2003 debacle, Bartman reportedly had to take a leave of absence from his job. What a better way to bring Bartman back into the fold by inviting him back as a PA announcer. Plus, fans have never heard the guy speak since he's been in hiding the past 8 years. The only stipulation would be that Bartman would have to agree to finally remove those headphones and show a little more situational awareness. The "Forgive Bartman" Facebook pages and petitions are already out there, Bartman just has to step up to the plate.