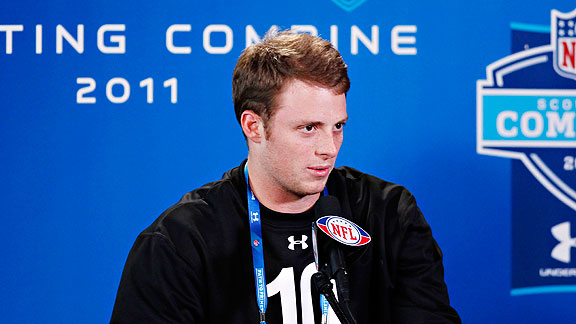 Joe Robbins/Getty ImagesGreg McElroy answers questions during a media session at the 2011 NFL scouting combine.
Greg McElroy is an overachiever. Always has been.
In his only season as the starting quarterback in high school at Southlake Carroll near Dallas, McElroy led his team to a 16-0 record and a state championship, and he was named the state player of the year.
In his first season as a starter at Alabama, he led the Crimson Tide to an undefeated season and a national championship in 2009. If that wasn't enough, McElroy, who was in college for five years after redshirting his freshman year, graduated with a marketing degree in three years, then added a master's degree in sports administration in December, even becoming a finalist to become a Rhodes Scholar.
So it shouldn't be considered a surprise by now that McElroy scored a 48 on the Wonderlic test at the NFL combine, just shy of the perfect score of 50.
The test was certainly a source of pride for McElroy, who told Page 2 on a recent visit to ESPN that he embraced his academic opportunities, approaching them with the same discipline he devoted to football.
"The university was going to pay for it, obviously, so I was going to try to get everything I possibly could from the university as far as degrees were concerned," McElroy said. "I was able to walk away with an undergraduate and a master's."
"Everyone says, 'Oh, you graduated in three years, what an accomplishment, how did you do that?'" McElroy said. "Really, if you think about it, as long as you're sitting there, and you're using the resources around you -- you have academic personnel, you have tutors, you have computer labs -- you have all the help you could ever want. Don't be undisciplined, have a lot of pride in what you're trying to do in the classroom, and you can knock it out relatively quickly. I just, for one, wasn't going to waste my time."