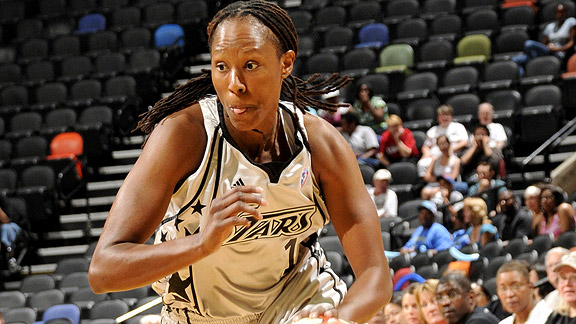 D. Clarke Evans/NBAE/Getty Images
In the espnW Pro's Questionnaire, our favorite sports figures take an abridged version of the most famous personality test, the Proust Questionnaire. Six-time WNBA All-Star and forward for the San Antonio Silver Stars Chamique Holdsclaw is next. She's talking about her giant closet, orange soda habit and admiration for the Williams sisters.
Your idea of happiness:
CH: Living life. Having peace of mind and knowing that my family is OK. Also doing what I want to do.
Your idea of misery:
CH: Waking up every day and hating your job or not being able to do what you love. Being around people who don't allow you to grow.
If not yourself, who would you want to be?
CH: Oprah. She has built an empire, helped so many people and transformed lives. She has so much success and keeps on giving.
Your favorite food/drink:
CH: Curried chicken. I don't drink a lot of soda but, when I do, I like orange soda.