A few weeks ago someone wrote on this column's comment board, asking if I could maybe write a little bit about soccer. Not being the biggest follower of the game, I would be hard-pressed to give any sort of novel stance on soccer.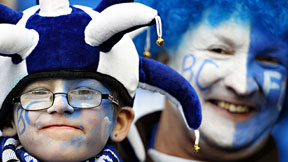 Adrian Dennis/AFP/Getty Images
But this past weekend, I was in the United Kingdom, and thought that maybe I could ask around and see if there was some sort of angle that I was overlooking toward soccer … er, football. I have a bunch of friends over there, and they are as die-hard toward their "clubs" as I am for my Seattle teams (football, baseball, college basketball).
The rock fans in the U.K. know a lot about their bands, and my being a big sports fan is no tiny secret over there. In every city from Dublin to Glasgow, and Liverpool to London, I have been pleaded with to outwardly root for whichever city's soccer team. And they give presents, too. As a result of this combination, I have a jersey, hat, socks or a banner from about every imaginable team in the U.K. and Ireland.
So, back to this past weekend.
On Friday night, I land in London and promptly get driven the 100 or so miles north to Birmingham. My friend Tom picks me up for the ride. I tell Tom that I now write for ESPN, and that I want to know how to get introduced into soccer … er, football, so that I would be interested enough to write about it. OK. "Fair enough," he says.