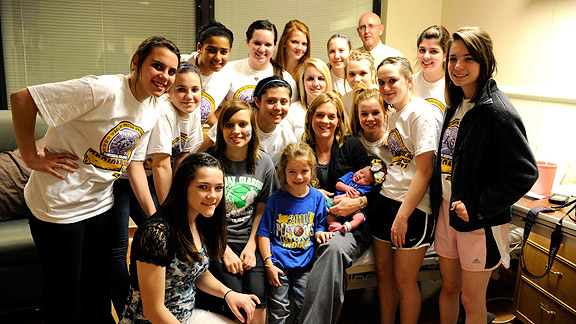 Greg Kendall-Ball/Abilene Reporter-NewsThe Lipan Lady Indians at the hospital with head coach Amber Branson and her newborn daughter.
Amber Branson had a pretty good 24 hours for a coach: Two wins, one baby.
Branson, the girls basketball coach in Lipan, Texas, gave birth to a daughter right after a game on Friday, at 10:18 p.m., then coached her team to a state tournament berth at 2 p.m. the next day.
That's 15 hours and 42 minutes after giving birth to an 8-pound, 7-ounce and 19-inch-long human being, without the aid of any painkillers.
Coaches are organized and know schedules. It's what they do. Branson was no exception, saying she'd pondered this scenario for months.
"I knew the timing of my due date might coincide with the playoffs, if we made it that far," Branson, 34, said while riding the bus carrying her team and family to the state tournament in Austin. "If there was any way possible to not miss a game, that's what I wanted to do."
Her team reached the regional semifinals in Abilene, about 100 miles from home, but Branson's friends in Lipan -- population 425 at the 2000 census -- had helped her prepare for emergency scenarios. Her son's first-grade teacher had a baby in Abilene about 20 years ago, and made a call to her doctor there, who said to pass along his cell phone number as a precaution. That number was put to use on Friday night, just after the team's big semifinal win over Roby.