When you win the Daytona 500 the day after you turn 20, everything about you is reported by the media. So when Trevor Bayne skateboarded around the infield upon winning this year's Great American Race (and $1.46 million) on Feb. 20, it ended up being a small part of his story. Then he told someone he also snowboards. And wakeboards. Not your average stock-car-racin' Tennessee Vol. In light of our need for more details, I caught "T-Bayne," as he refers to himself, on his way to the airport nearing the end of a two-week, post-Daytona media tour.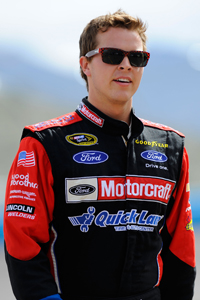 GettyTrevor Bayne stands on pit road during qualifying for the NASCAR Sprint Cup Series Subway Fresh Fit 500 at Phoenix International Raceway in Feb.
So you just finished filming a Good Morning America segment?
I did, man. We raced go-karts with Robin Roberts, the lady from Good Morning America, and just hung out, man. It was cool.
How did you get into skateboarding and snowboarding if you grew up in a car racing family in Knoxville?
Well, I'm not a great skater. I ride around on my Sector 9 longboard all the time, just cruise. I started snowboarding about five years ago, when I was 15. I know it's not a very good mountain, but Gatlinburg is only a 45-minute drive from Knoxville, so we'd always take day trips up there and shred. And when we got a place in North Carolina, the first thing I figured I had to do was learn how to wakeboard. I've learned about five inverts since then.
How much snowboarding have you done?
I've been to Crested Butte and Jackson Hole twice, obviously all up and down the east coast, North Carolina -- I got a season pass to Ober, a season pass to App. It's all kind of park stuff. We don't get great snow here. It's all kind of icy and granular. But at least once or twice a year I go and do some deep powder riding.