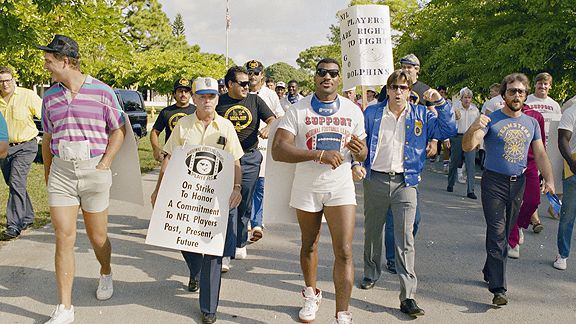 AP Photo/Raul DemolinaIn 1987, Miami Dolphins quarterback Dan Marino (left) and members of the striking Miami Dolphins football team, accompanied by supporters, storm past police.
Who can keep up with all this football strike talk? Then we have all the fun of baseball and basketball possibly going on strike next year. It can make your head swim. At least the positive side of all this is there have been many funny things said about strikes and sports. Here are five of them:
1. "Well that should be easy, we already have the sticks."
-- hockey player Dave Brown on players carrying signs during a brief 1992 hockey strike
2. "It's kind of like coaching an All-Star team without all stars."
-- John Robinson, on coaching scabs during the football strike
3. "We might have the worst bunch of guys together we've ever seen as a football team. I don't know what anybody else has, but I'd trade mine with anybody, sight unseen."
-- Buddy Ryan, former Eagle coach, on his replacement team getting murdered by the Bears replacement team
4. "I'm the only one the lockout didn't effect."
-- Glen Healy, backup goalie who rarely played, discussing the impact of the hockey strike
5. "Put it this way. If Richard Burton got sick the night before playing Macbeth in New York, he wouldn't be worried if Pee Wee Herman replaced him for a day."
-- Billy Ray Smith, on concerns about replacement players taking over for players during the previous football strike
For more sports quotes, check out my site.